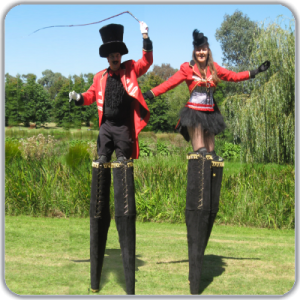 Prepare yourself for the most magnificent, most splendiferous, most towering and titillating stilt walking entertainers… it's the Circus Ringmasters, ready to make your event the greatest show on Earth!
Glamerous Ringmasters Finnius and Francesca are fantastic at working a crowd. Full of energy and fun, their verbal engagement takes bravado to its linguistic limit!
The Ringmasters are always on the lookout for people who want to run away and join the circus, and they will help you discover your true calling. Perhaps you're a human cannonball waiting to go out in a blaze of glory, or maybe you're a working mother who can juggle a home and family life – juggling knives would be comparatively easy.
Whether your event is big or small, the spirit of the Big Top comes to you, with whip cracking Finnius and the lovely Francesca.