Under construction:
Our site is undergoing a change to make it more user friendly and to better show the acts. While we are in this period this page is better called – "The Most acts list" –
We hope to be finished soon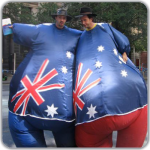 Perfect for Australia day. The Giant Aussies are big patriots and are true blue. They bring a lot of big Aussie character.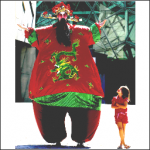 Cai Shen
Giant Cai Shen is the Chinese god of prosperity and performs in parades, Chinese New Year celebrations, and internationally and globally themed events.
These Melbourne stilt performers are the flavour of the month! If you can never trust a skinny chef, then these are the two most trustworthy cooks ever! The Giant Chefs attract attention from near and far, and comically engage all ages.  
Available as a solo, duo of Gourmet goodness.
Read More
Reasons To Book These Entertainers / Stilt Walkers
The Giant Chefs are the biggest and best food themed stilt performers.
The Giant Chefs are an energetic act; fun and playful.
These stilt walkers are the perfect event entertainers for any food themed event.
Christmas elves don't come any bigger or better than these exciting characters!
Coaches
Great for any sporting event the Giant Coaches will rev up and train all that go near them.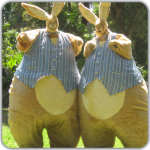 Easter Bunnies don't get any bigger or better than this. The perfect roving performers for your Easter event.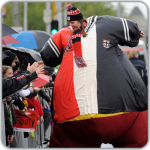 Footy Fans
Giant Footy Fans available for most AFL teams. They know how to work a crowd and have featured in the AFL parade in Melbourne for many years.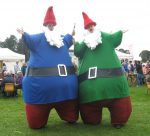 The Giant Garden Gnomes
The massive size of the Giant Garden Gnomes can stun people, and their playful personalities will make you want to be a green thumb too.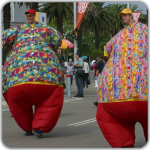 This is the costume that started the Jolly Giants over 12 years ago! Excited tourists who love to mingle with the locals.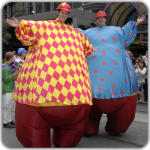 Giant Jockeys
First created for the Melbourne cup parade these jockeys have been a feature of spring racing ever since. For any Horse racing themed event these guys are a sure thing.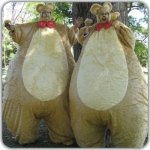 Giant Teddy Bears
These funny teddy bears love a good picnic and they'll make sure your event is fabulous.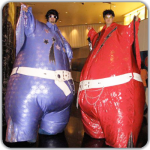 Elvis
No one is bigger than the King and our Giant Elvis rocks, rolls and wobbles!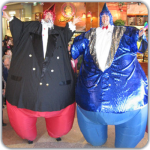 Party Boys
When you want to get the party started or build a celebration atmosphere, the Giant Party Boys are for you!
Stilt Walkers Australia Is based in Melbourne Victoria, we work with stilt walkers Australia wide and regularly tour internationally.


© Copyright – Stilt Walkers Australia