---
Eesha Elephant Images
Eesha Elephant Video
Eesha Elephant once ran away to join Silvers Circus!
Click on the button below to see when Eesha Elephant astounded Australian cricket legend Mark Waugh!
Eesha Elephant Description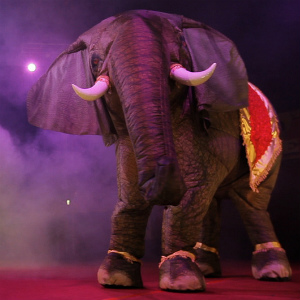 Taking stilt performances to the next level Eesha Elephant is breath taking. The realism of her look and movements are dramatically stunning. Eesha startles people when she lifts her head and trumpets, which happens on occasion when Eesha wants to establish her dominance to other nearby females. Eesha Elephant is accompanied by a stilt walker who helps interpret her actions and responses to people. Eesha Elephant is world class entertainment.
.
Reasons To Book These Stilt Walkers
Experience the magic of having an amazingly life like elephant wander through your event.
Eesha Elephant is the size of an Asian Forest Elephant.
This stilt performance literally stops traffic!
Act Biography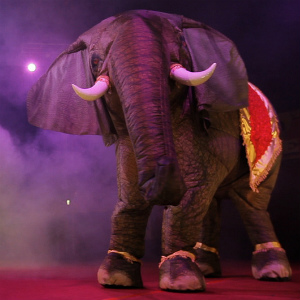 Melbourne based Eesha Elephant has performed in Kuwait and toured Australia extensively, including Woodford Folk Festival, Festivale Launceston and Melbourne's Moomba Parade. Eesha Elephant is accompanied by a stilt walking character who is the verbal interface for the act. Eesha's stilt characters include a Vintage Zoo Keeper / Safari Ranger / Circus themed / Bolly themed. Eesha Elephant fits through standard double doors and in most elevators.
.
.
.
.
Testimonials
"The Stilt Walkers Australia team was 100% fabulous! Eesha Elephant was a massive hit!! I was amazed by how life like she is. Also, HUGE thank you to you and your team for your flexibility. I wouldn't hesitate to work with you again in future or to recommend your team to others!"
Michele Fredregill, RMIT, 2015
"Eesha Elephant was a hit for the Kids Foundation Ball. When she entered through the doors, people could not believe what they were seeing! The team at Stilt Walkers were also very professional and easy to work with. An absolute pleasure."
Beven Addinsall, Stage Life, 2014
""I am writing on behalf of the Moomba Parade Team to thank you so much for your fantastic contribution to the Moomba Parade. It was terrific to have you involved. Eesha Elephant looked absolutely amazing and was a real highlight – and your whole team did a great job. Amazing work!"
Sue Broadway, Moomba Parade, 2013
---