---
Giant Bunnies Images
Giant Bunnies Description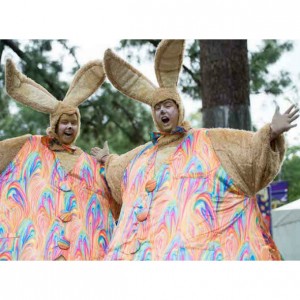 These rascally rabbits will bunny-hop their way in to your heart. The Giant Bunnies have a broader palette than carrots accommodate and, being the Easter Bunny's official food tasters, there is so much more of them to love! The only thing bigger than their personality is their giant sized bunny tail, and people of all ages adore them.
.
Reasons To Book These Stilt Walkers
The biggest and best stilt bunnies, these are the most massive Giant Bunnies that you will ever encounter.
The Giant Bunnies will fill you with amazement and comical delight.
Our stilt walkers are skilled stilt artists and experienced stage comedy improvisers; we meaningfully engage all ages.
Act Biography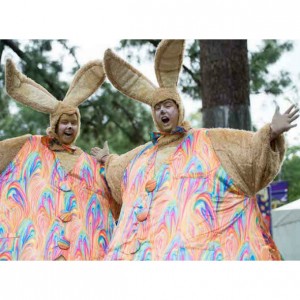 Popular as an Easter act this Melbourne based stilt walking entertainment has performed at the Werribee Park Easter Egg Hunt, Luna Park and Bendigo Easter Festival, in addition to numerous shopping centres and even as a general roving entertainers at Melbourne University's Orientation Week celebrations. The Giant Bunnies are available as duo or solo performances.
Testimonials
"Stilt Walkers Australia are a very professional and well presented entertainment company who were a pleasure to work with. Their Giant Bunny was enjoyed by everyone both young and old. It was a great pleasure to see people smile and laugh when they saw the Giant Bunny and were still smiling when he passed"
Jodi Meadows, Pran Central, April 2012
"The Giant Easter Bunny brought the area alight. I think adults got even more pleasure than the children!"
Michael Gillis, Flemmington Chamber of Commerce, April 2011
---