---
Ice King and Queen Images
Ice King and Queen Description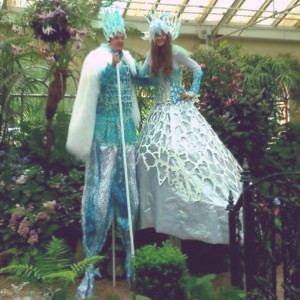 For all those dreaming of a white Christmas, the Ice King and Queen bring a touch of the North Pole to your Australian Christmas. This Christmas entertainment leaves people spell bound with their gorgeous look and regal interaction. The Ice King and Queen stride through Christmas events encouraging people to bow and curtsy to them. They provide a cool presence in the Christmas rush!
.
Reasons To Book These Stilt Walkers
This is the most beautifully ornate, winter stilt act you have ever seen!
The Ice King and Queen almost appear to be wearing ice.
The Christmas entertainers who perform this act are experienced comedy improvisers and they meaningfully engage people.
Act Biography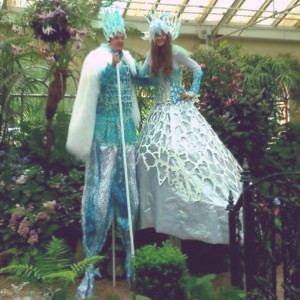 This Christmas entertainment is based in Melbourne and the Ice King and Queen perform all over Australia including appearances at the Rockhampton River Festival and shopping centres such as Woodgrove Melton. The Ice King and Queen are available as duo or solo performances.
.
.
.
.
---