---
Circus Ringmaster Images
Circus Ringmaster Description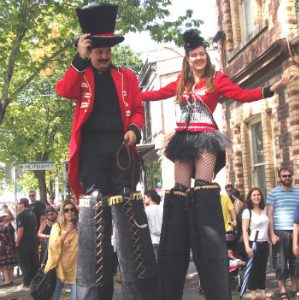 Two glamorous circus stilt walkers hover above the crowd and beckon you closer.
The stilt walking Circus Ringmasters encourage those near and far to run away and join their circus. They ask if they can shoot you out of a cannon or jam you inside a little car with 16 other clowns. As you laughingly agree to put your head inside a lion's mouth, you have become caught up in the atmosphere and magic of the circus world.
Reasons To Book These Stilt Walkers
The Circus Ringmasters strongly verbally engage with audiences to enhance a circus atmosphere.
The Circus Ringmasters are event entertainers who attract plenty of attention and can marshal audiences, say from a foyer to main hall.
The Circus Ringmasters are a playful stilt walking act, that engages with all ages.
Circus Ringmasters Biography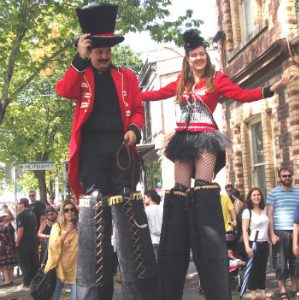 Based in Melbourne these stilt entertainers have appeared at a variety of corporate events including the Brisbane Gaming Commision Expo (2016) and Dekton Product Launch (2014).
The Circus Ringmasters have also appeared at a range of community festivals including Fitzroy Street Traders Halloween event (2015), City of Casey Children's Festival (2014) and South Melbourne Festival (2012).
The Circus Ringmasters are available as solo or duo stilt artists; and a Ringmaster accompanies the lions trio act Almost Tame, or can be booked to appear as the stilt character with the large scale acts Eesha Elephant or the Dream Bear.
---