Fantasical creatures surrounded by masses of bubbles!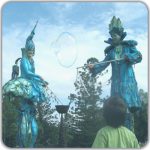 A favourite of Australian festivals these shimmering water creatures have bubble machines built in to their costumes so masses of bubbles float around the performers wherever they go. People are mesmerised by the beauty of this stilt act, and coupled with the bubbles the Water Drops have children bursting with excitement.
Sample images below.