Magnificent stilt flowers that take your breath away!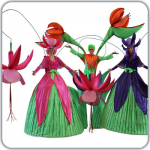 In full bloom and regalia the Long Stems are festival entertainers who are sprouting with colour and energy. These ornamentals move through the festival encouraging people to stop and smell the roses. Always hopeful that people will take them home and cultivate them, the Long Stems love to chat – they're no wallflower!
The Long Stems are available in up to a quartet of performers, and true to the biology of flowers there are both male and female floral combinations. The elaborate nature of the Long Stems makes them the perfect stilt artists for festivals; these stilt performers stand out in the crowd and draw people in with their stunning visual look and high level verbal interaction.
Sample images below.