---
Long Stems Images
Long Stems Description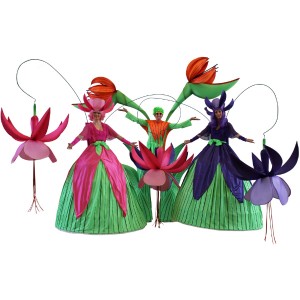 In full bloom and regalia, the Long Stems are spectacularly enchanting. The Long Stems stilt flowers are dramatic, remarkable event entertainers who move through audiences, sometimes engulfing people with their giant Fuchsias!
Wild flowers at heart, the Long Stems' captivate audiences with their playful encounters.
Reasons To Book These Stilt Walkers
 The Long Stems are the most magnificent stilt flower performers that you will ever see!
Breathtakingly beautiful the Long Stems costumes span a width of 3 metres and draw people's attention.
The event entertainers who perform this stilt act have extensive experience in stage comedy improvisation, and delight audiences.
Act Biography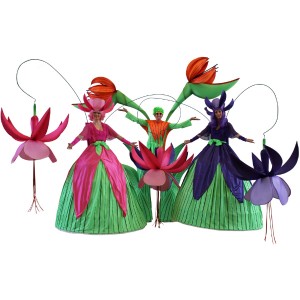 The Long Stems are Melbourne based and have appeared internationally at the Singapore Kite Festival (2013) and the Grand Indonesia (2013), and national event performances include the Bendigo Easter Festival (2014 & 2016), Crown Resorts Melbourne (2014 & 2015), Midsumma Carnival (2016) and various University Open Days (2014 – 2016).
The Long Stems are available as a pink female Fuchsia, purple female Fuchsia or unisex Bird of Paradise.
.
.
.
.
Testimonials
"I just wanted to say thank you to you and The Long Stems trio for a fabulous performance at our Gala Ball. The Long Stem team were truly an incredible asset to the night and we have heard nothing but rave reviews from all attendees! We greatly appreciated all your help and swift communication."
Hilary Brown,Australian Medical Students Association, 2015
"Stilt Walker's provided an elegant, surreal background wandering through the garden as guests enjoyed their champagne – it certainly set the perfect tone."
Sarah Bernard, Sarah Bernard Event Management, 2012
---