---
Roo'd Bouncing Kangaroos Images
Roo'd Bouncing Kangaroos Description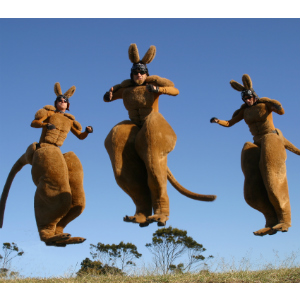 Roo'd are kangaroos on amazing new bouncing stilts. Jumping up to a metre off the ground and 2 metres in a bound, they are a phenomenal sight. Their characters are a crossover of outback macho and inner city punk savy – always Roo'd but never offensive. A favourite at festivals around the world.
Reasons To Book These Stilt Walkers
A phenomenal sight, audiences of all ages will marvel at their size.
Have performed for Microsoft, IBM, Disney, Nokia, Sony and many more.
Were voted 2nd best act at Glastonbury after Coldplay on BBC Radio 2.
Roo'd Bouncing Kangaroos Biography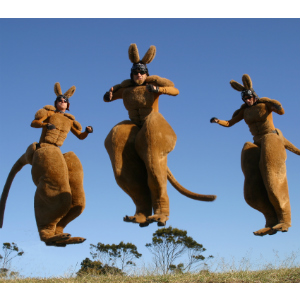 Since the act was first conceived and made in 2002, Roo'd has appeared at festivals and events around Australia and the world. So far Roo'd has appeared in Australia, Malaysia, Singapore, Japan, Canada, Dubai, Bahrain, Italy, Croatia, Austria, Germany, Holland, Belgium, France, Spain, England, Scotland, Wales, and Ireland, making it one of Australia's most successful independent creative exports.
.
.
.
.
---