An act you will never forget!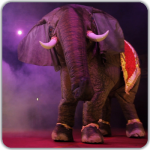 Time to acknowledge the elephant in the room literally! This life-like elephant could be roving through your crowd with her companions the Zookeeper or the Circus artist. At an impressive 2.6m tall and 3.5m long Eesha is modelled on and is as large as a real African forest elephant.
Available with circus decorations or 'el natural'
Scroll down for sample video and images.
Thanks to Brett Moulton of Silvers Circus for his footage of our visit to Silvers Circus above.