Giant bubbles & bubble machines in their costumes!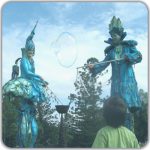 Two fantastical water-creatures shimmer, gleam and bring a touch of the exotic to your event. With bubble machines built into thier costumes, masses of bubbles float around the Water Drops wherever they go. The Water Drops put the magic back into making bubbles.
Available with a wand option where they create massive bubbles up to a meter in size.
Scroll down for sample images.