---
Giant Jockeys Images
Giant Jockeys Description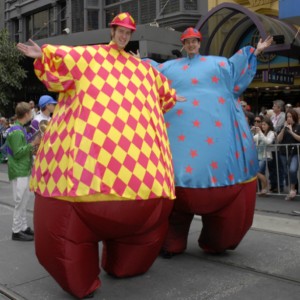 The Giant Jockeys may not be event entertainers that stop the nation – but they will bottleneck it! These stilt entertainers are ready to get physical, they just require a steam room. The Giant Jockeys don't win by a nose, they win by a navel! The Giant Jockeys are a sure thing for fantastic, engaging entertainment.
Reasons To Book These Stilt Walkers
This is Spring Racing Carnival event entertainment like you have never seen before!
The Giant Jockeys are fun and funny, engaging all ages.
The Giant Jockeys stilt performers are highly skilled comical entertainers with extensive experience in audience improvisation.
Giant Jockeys Biography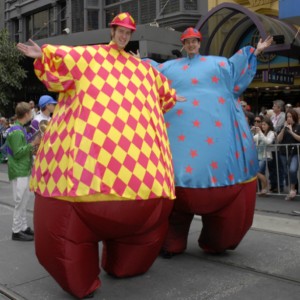 These event entertainers are based in Melbourne and perform extensively throughout Victoria including the Moonee Valley's Cox Plate (2012 – 2015), Flemmington's Stakes Day (2012 – 2015), and the Melbourne Cup Parade (2007 – 2015). There are up to a quartet of Giant Jockeys available, and being part of the Jolly Giants stilt performers range, the Giant Jockeys have the comical interaction and energetic performances for which the act is known.
---