---
Circus Ringleaders Images
Circus Ringleaders Description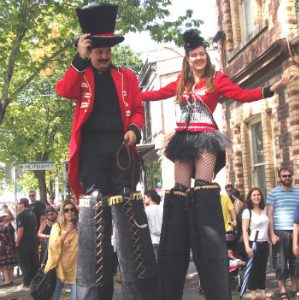 Fabulous and glamorous the Circus Ringleaders make your event the greatest show on earth! Available as a male/female duo the Ringleaders are fantastic at working a crowd. Full of energy and fun, their verbal engagement takes bravado to its linguistic limit! Bring the spirit of the Big Top to you.
Reasons To Book These Stilt Walkers
The Circus Ringleaders are highly verbal and engaging stilt walkers.
The perfect circus themed entertainment.
These Melbourne stilt walkers are also great entertainers for launches and events where the entertainer's verbal skills are matched by their visual spectacle.
Circus Ringleaders Biography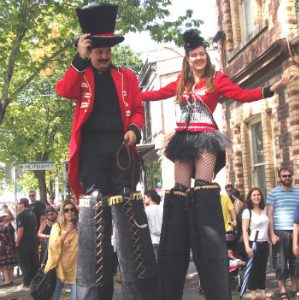 Melbourne based stilt walkers, the Circus Ringleaders have performed at corporate events including the Dekton Product Launch (2014), the Igloo Blue store opening in Balmain (2013), and University events including RMIT Founders Day (2015) and Melbourne University Open Day (2014 & 2013). The Circus Ringleaders are also a great choice for family and community events, such as the Casey Kid's Carnival (2014). The Circus Ringleaders are available as a solo or duo of stilt performers.
---