---
Almost Tame Images
Almost Tame Description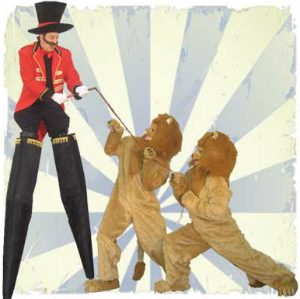 Almost Tame is one of the most playful and interactive stilt walking acts in Melbourne. Almost Tame is made up of a trio of performers with two cheeky, walking, talking lions who get into all sorts of mischief and their stilt walking lion tamer. Whip cracking Lion Tamer Finnius tries desperately to control his two cheeky, talking lions – Lionel and Ritchie. These cosmopolitan lions are plenty of fun.
Reasons To Book These Stilt Walkers
This stilt act is one of the most interactive event entertainers you can find.
Almost Tame is available with an optional giant sized chariot which the lion tamer 'rides in'.
Almost Tame is the perfect event entertainment for a variety of themes including; circus, pet expos, garden events, Wizard of Oz themes, and as general entertainment.
Almost Tame Biography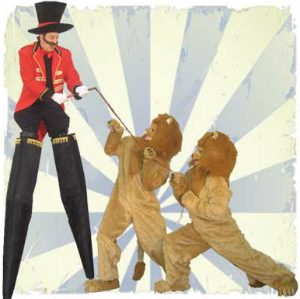 Melbourne based, this stilt walker act has performed all over Australia including Woodford Folk Festival, Whyalla Show, Festivale Launceston, Albury Children's Picnic and Rockhampton Show. Almost Tame are available as a comical duo or trio. Join Finnius and his two lions, Lionel and Ritchie, for highly engaging roving entertainment.
Testimonials
"Thank you for your amazing efforts at our 44th Show. You continue to amaze us all. You are very talented people, of that there is no doubt. The looks of joy and smiles were evident whenever you appeared. Thank you for providing such a professional service and fantastic spectacle to the people of Whyalla."
Michelle Head, Whyalla Show Society, 2014
"We absolutely loved having Almost Tame perform at our event and you were easily the star attractions! I can't stress enough just how awesome you guys were and how well you fit in with everything. You did such a great job!."
Rachel Hanna, Enjoy Church 'Big Top Event', 2013
"Clever, funny, interactive and engaging entertainment for all ages – kids and adults loved Almost Tame. A delight to work with – approachable, flexible and very professional. We have no hesitation in recommending them to any venue, council or event organiser."
Camille Sunshine, Murdoch Children's Research Institute, 2011
---