---
Electra Android Images
Electra Android Description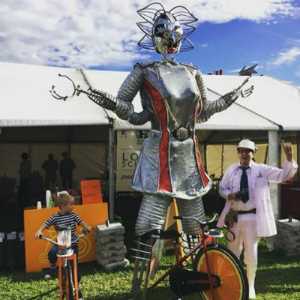 Prepare to be dazzled by Electra Android; a glittering, towering stilt robot almost 4 metres in height! Electra is an elegant, silver spectacle who explores events with her Inventor. Electra has a child like innocence and her Inventor encourages her to learn more about human interaction. Children adore Electra and coax her to mimic their movements!
Electra Android is one of the best stilt walking acts in Melbourne. She is perfect event entertainment for science, technology, future and science fiction themed events.
Reasons To Book These Stilt Walkers
Electra Android is a towering 4 metre tall stilt spectacle!
Electra Android is spectacular event entertainment that draws attention from near and far.
Electra Android is a stilt performance like you have never seen before!
Electra Android Biography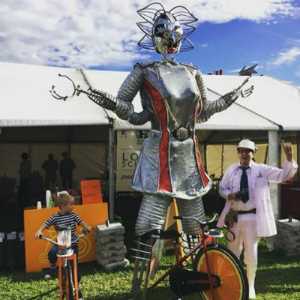 The Electra Android performers are a team of Melbourne stilt walkers and tour nationally and internationally. Electra Android has long been a crowd favourite and has appeared at festivals and events all over the world, including the Royal Sydney Show, the Oerol Festival (Holland) and the Kingston Harvest Festival (Melbourne). The Electra Android act is made up of two event entertainers; one stilt performer as Electra and the Inventor ground character.
Testimonials
"Bring it on: Stilt Walkers Australia are just what I love to add to a festival or event giving that unique element of surprise! There's Eesha, the really, really alive looking elephant, that some punters believed was real and not on a leash! From Electra Android, the giant robot with ambidextrous movement, to really tall people in bright, colourful costumes looming over the crowd below: If you are looking for a theatre company with innovation and passion Stilt Walkers Australia are the go!"
Petti McInnes, City of Kingston, 2016
---