---
Giant Chefs Images
Giant Chefs Description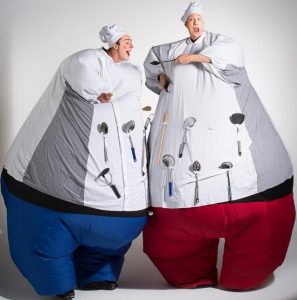 These Melbourne stilt performers are the flavour of the month! If you can never trust a skinny chef, then these are the two most trustworthy cooks ever! The Giant Chefs attract attention from near and far, and comically engage all ages.
Reasons To Book These Stilt Walkers
The Giant Chefs are the biggest and best food themed stilt performers ever!
The Giant Chefs are an energetic act; fun and playful.
These stilt walkers are the perfect event entertainers for any food themed event.
Giant Chefs Biography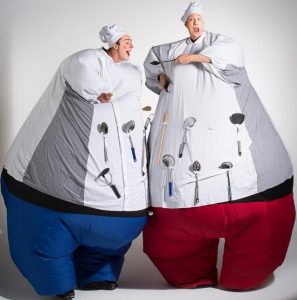 This stilt walking act can be found in Melbourne and Sydney. The Melbourne Giant Chefs are available as up to a duo, and have performed extensively throughout Melbourne including Pacific Shopping Centres Pop Up Food Festival (2016), Tennis Australia Family BBQ (2015), Bright n Sandy Festival Brighton (2012-2014) and Paris To Provence Festival (2014). The Giant Chefs are part of the Jolly Giants range and deliver the comical interactions for which the stilt act is synonymous.
Testimonials
"Gemma Giraffe and the two Giant Chefs were the perfect entertainment for a family food and wine festival organised by our company. They thrilled both children and adults and added a "wow" factor to the day. Professional and entertaining with great audience interaction, we would highly recommend Stilt Walkers Australia for any event that requires stand out entertainment."
Christina Johns, Event Coordinator, The Production Place, 2012
"Thanks for providing courteous, witty, humourous and professional performers for the William Angliss Open day on Sunday the 8th of August. The Giant Chefs did a fantastic job engaging with the audience, and I would not hesitate to hire them again in future."
Heng Le, Events Coordinator, William Angliss Open Day, 2010
---