---
Ground Candy Canes Images
Ground Candy Canes Description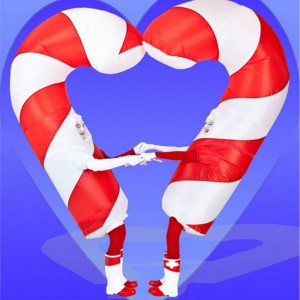 The Ground Based Candy Canes are the little brother of our act the Giant Candy Canes but are perfect for performing spaces where the Giant Candy Canes won't fit.
This act has all the spectacle of the stilt walking version and buckets of energy! The cheeky Candy Canes dart around bopping people with their hooks and giving them a sugar hit!
Reasons To Book These Stilt Walkers
The Ground Candy Canes are the most high energy Christmas entertainers in Melbourne.
If you have an event where you want people to take photos, the Candy Canes will make that happen.
At 2.5 metres in height the Ground Candy Canes are as tall as most stilt walkers and have greater accessibility; they can perform on stairs, escalators and can cover lots of ground.
Ground Candy Canes Biography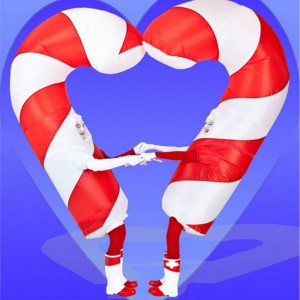 Based in Melbourne and through our sister company Icarus Performance Troupe in Sydney, the Ground-based Candy Canes are extremely popular Christmas entertainment. Their appearances include; Myer Melbourne 24 Hour Sale Promotion (2015), Hastings Traders (2013 & 2014), Brunswick Street Traders Association (2012 & 2013) and Westfield Airport West. (2014).
As ground based Christmas characters, the Candy Canes are able to use stairs and esculators to easily access all activation zones.
Testimonials
"The Candy Canes looked fabulous and interacted with the crowd beautifully. Thank you for performing with such wonderful energy and vibrancy."
Patricia Keenan, Moonee Valley Carols, 2010
"We had Stilt Walkers Australia attend our annual Christmas Festival and could not be happier with their performance. I was impressed with their professionalism, having arrived early to view the event location and meet me (the Event Coordinator) to ensure they were fully aware of the event's proceedings and requirements. From the moment they arrived at the event until the very end they remained 100% in character and brought so much enjoyment to people of all ages. Their cheerful characters and energetic performance was infectious, adding to the festival atmosphere of the event. They are a must have at any event."
Pia Timu, City of Kalgoorlie-Boulder, 2012
---