---
Stilt Police Images
Stilt Police Description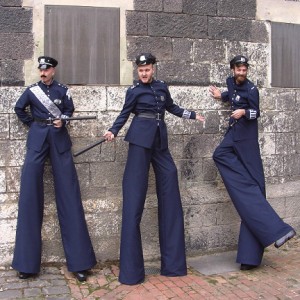 The Stilt Police – because no one is above the law! A comedy hierarchy of stilt walkers, our boys in blue will tickle you pink! These olde world, oafish officers are thoroughly engaging entertainers. This is event entertainment that keeps people laughing!
Reasons To Book These Stilt Walkers
The Stilt Police are one of the most comically engaging acts on Melbourne's stilt walker scene.
The Stilt Police are great corporate entertainment, playfully exploring the event looking for the biggest trouble maker!
People of all ages love the freedom of giving the Stilt Police cheek!
Stilt Police Biography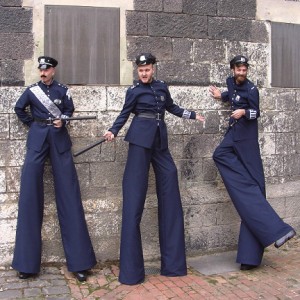 This Melbourne stilt walkers team are available as English Bobbies or Vintage Stilt Officers. The Stilt Police have appeared extensively throughout Australia including Festivale Launceston (2015 & 2012), Rockhampton Show (2013), National Folk Festival (2013) and the Queensland Gaming Commission Expo (2016). The Stilt Police work best as a comical hierarchy but are available as a solo, duo or trio of stilt performers.
Testimonials
"Just a quick note to say how much we loved the Stilt Police act! We had great feed-back. Many thanks again."
Colleen Ocafrain, Events Manager, Clubs Queensland, 2016
"Your contribution added a priceless amount of fun and intrigue to our Carnival! We have had so much positive feedback from staff and the public about the engaging towering policeman – you were a hit! You put a smile on my face every time I walked by. Thank you for your professionalism and organisation leading up to the event."
Natasha Koch, Events Officer, State Library of Victoria, 2013
"I just wanted to say a huge thank you to both yourself, and our stilt walkers Scott and Evan. The Stilt Police were such a massive hit, not just with the kids! I still have people telling me how great they were! It was a pleasure working with all of you."
Larni Pilgrim, Event Assistant, EMC Group Geelong, 2012
---