---
Giant Teddy Bears Images
Giant Teddy Bears Description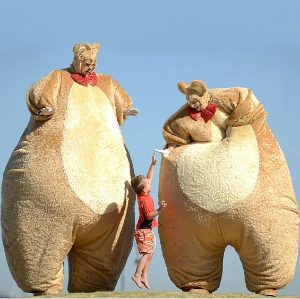 You hear a commotion up ahead, when suddenly you see two Giant Teddy Bears trailing after someone for their food! They beckon people over for a bear hug and instantaneously bring their massive bellies together, engulfing the person so that only their head can be seen, sandwiched in between their Giant Teddy Bear bodies! Gentle with small children and cheeky with the big kids, the Giant Teddy Bears are unique and playful event entertainment.
Reasons To Book These Stilt Walkers
These stilt entertainers are the biggest, most interactive teddy bears ever!
The Giant Teddy Bears are highly engaging event entertainers with infectious energy and humour.
The Giant Teddy Bears combine the spectacle of a sophisticated stilt costume with high level verbal engagement by trained comedy improvisers.
Act Biography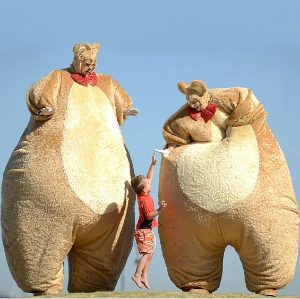 The Melbourne based Giant Teddy Bears have performed in Singapore, and Australian stilt performances include St Kilda Festival, Crown Resorts Melbourne and Deakin University Open Days (across all campuses). The Giant Teddy Bears are a part of the Jolly Giants' stilt performer range, and are available as solo or duo performers. The Giant Teddy Bears are perfect event entertainment that both verbally and visually engage.
.
.
.
.
Testimonials
"I just wanted to thank you and your performers for such a fantastic time with the Giant Teddy Bears on Saturday. It was a huge success and the boys were honestly the best! They were truly amazing, such a great hit. Their personalities were great with kids and adults. People just loved them! So my next question is, do they come in other characters?"
Janene Poyton, Wellington Square, 2014
"Thank you for your amazing efforts at our 44th Show. You continue to amaze us all. You are very talented people, of that there is no doubt. The looks of joy and smiles were evident whenever you appeared. Thank you for providing such a professional service and fantastic spectacle to the people of Whyalla."
Michelle Head, Whyalla Show Society, 2014
"It was an absolute pleasure to have your amazing performers at our Halloween event. They were truly professional, helpful, organised and entertaining! The kids were delighted and in awe."
Michelle Nichol, Fitzroy Traders, 2015
---