---
Gemma Giraffe Images
Gemma Giraffe Description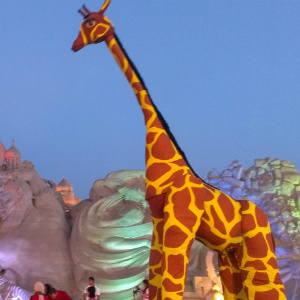 Gemma Giraffe is one of the most amazing stilt walkers acts in Melbourne! Gemma Giraffe is a 5 metre tall stilt giraffe who attracts people from great distances. Children love a chance to shake hoofs with Gemma or getting tickled by Gemma Giraffe's tail as she walks over them.
Gemma Giraffe is the perfect even entertainment for safari / multicultural / environmental themes and even pet expos!
Reasons To Book These Stilt Walkers
Gemma Giraffe is the tallest stilt performance in Melbourne.
Gemma Giraffe is so tall that as she walks, adults can pass beneath her without having to stoop.
Gemma Giraffe is an amazing spectacle and delights all ages.
Gemma Giraffe Biography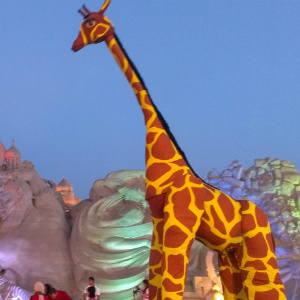 Melbourne stilt walker Gemma Giraffe has performed internationally in Kuwait and Indonesia and extensively throughout Victoria including Kingston's Globe to Globe Festival (2016), Werribee Park Children's Picnic (2015 & 2013) and the opening of the Giraffe Cafe at Melbourne Zoo (2015).
Gemma Giraffe is a duo performance where a ground based Ranger accompanies Gemma Giraffe. The stilt giraffe has a height of 5 metres which should be considered in regards to the performance space.
Testimonials
"Thank you Stilt Walkers Australia for consistently providing us with the highest quality attractions for our Council events in Brisbane. Every year your beautiful animals become the sensational attraction at our events and leave a wonderful lasting impression for the thousands of adults and kids who attend. You guys are great to deal with, consummate professionals and I look forward to working with you next year to create yet another great visual event!"
Bronte Morris, Moreton Bay Regional Council, 2014
"We loved having the Dream Bear and Gemma Giraffe at the festival. And clearly so did the public – the look of surprise and wonder on the kids' faces was a delight to see and you can quote me!"
Ana Vrantsis, Brimbank City Council, 2012
"Gemma Giraffe and the two Giant Chefs were the perfect entertainment for a family food and wine festival organised by our company. They thrilled both children and adults and added a "wow" factor to the day. Professional and entertaining with great audience interaction, we would highly recommend Stilt Walkers Australia for any event that requires stand out entertainment."
Christina Johns, The Production Place, 2012
---