---
Giant Candy Canes Images
Giant Candy Canes Description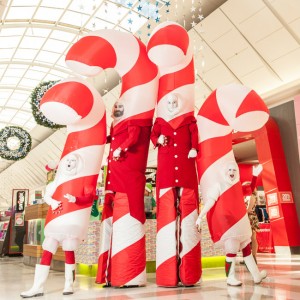 This event entertainment is an amazing Christmas spectacle! People love engaging with two jovial, playful Giant Candy Canes.
One cheeky ground based Candy Cane is full of energy and zips around trying to bop people with the end of his hook, and the other is a massive spectacle.
Reasons To Book These Stilt Walkers
This is the biggest and best Christmas stilt walking act based in Melbourne.
The Giant Candy Canes fill large spaces with their size and personalities.
The Giant Candy Canes are a stilt performance which instantly projects a Christmas celebration.
Giant Candy Canes Biography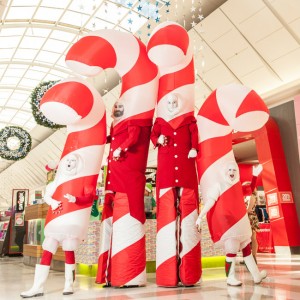 These event entertainers are available in Melbourne or through our sister company Icarus Performance Troupe in Sydney. The Giant Candy Canes have performed extensively throughout Melbourne including Crown Resorts Melbourne Christmas in the Atrium (2011 – 2015), Myer Bourke Street Christmas Windows Launch (2013 – 2015), Bridge Mall Ferris Wheel Launch (2015) and City of Glen Eira Carols (2015).
The Giant Candy Canes duo are made up of one Christmas entertainer on stilts at 3.6 metres height and one ground based Candy Cane at 2.5 metres height. We find that this is the best performance combination for spectacle and high energy. A duo of Giant Candy Canes are available in Sydney, and in Melbourne up to three duos are available.
Testimonials
"The performers and performances were terrific! The Giant Candy Canes added a great deal of excitement and their act was very well received. So many people engaged with them and plenty of photos were taken. It was a terrific result!"
Mark Bruty, City of Ballarat, 2015
"Many thanks to our Giant Candy Cane and Water Drop performers at our Christmas party this weekend. They were amazing and I received such positive feedback! I will definitely be passing on your details."
Anna Joske, Springthorpe OC2, 2015
"We had Stilt Walkers Australia attend our annual Christmas Festival and could not be happier with their performance. I was impressed with their professionalism, having arrived early to view the event location and meet me (the Event Coordinator) to ensure they were fully aware of the event's proceedings and requirements. From the moment they arrived at the event until the very end they remained 100% in character and brought so much enjoyment to people of all ages. Their cheerful characters and energetic performance was infectious, adding to the festival atmosphere of the event. They are a must have at any event."
Pia Timu, City of Kalgoorlie-Boulder, 2012
---