---
Water Drops Images
Water Drops Description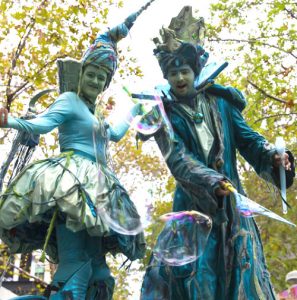 Whether you are looking for a stunning, fantasy themed stilt performance or event entertainers designed to embody water, the Water Drops are a perfect fit. This act is one of the most in demand stilt walker performances in Melbourne, and the Water Drops are as popular as bubble performers as much as they are stilt artists. The Water Drops have been booked for performances at food and wine festivals, harvest festivals, corporate events, Halloween entertainment, and any event with an emphasis on engaging children.
Reasons To Book These Stilt Walkers
The Water Drops are dazzling in day light, and shimmer and gleam in the night light.
The Water Drops are an amazing bubble performance; they emit masses of bubbles from their costumes and use specialist equipment to make giant sized bubbles of up to a metre in diameter.
Perfect for a range of themed events including; fantasy, environmental, food & wine, corporate and family.
Water Drops Biography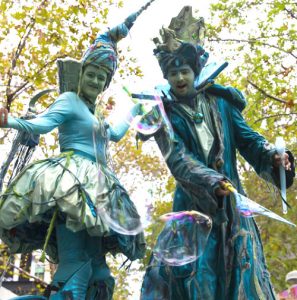 The Water Drops are Melbourne stilt walkers who have performed internationally at the Singapore Kite Festival, the Inside Out Festival Singapore and extensively throughout Victoria including Diwali Federation Square (2015 & 2013), Bendigo Easter Festival (2015 & 2012), various University Open Days (RMIT Bundoora 2015, Deakin University Burwood 2014 & 2015), Werribee Pacific (2016 & 2014), Watergardens (2015) and various corporate events. The Water Drops are event entertainers whose costumes emit bubbles and they also use specialist equipment to make giant sized bubbles as they perform. The Water Drops are generally booked as a stilt walker performance and they are also available as ground based characters.
Testimonials
"Many thanks to our Giant Candy Cane and Water Drop performers at our Christmas party this weekend. They were amazing and I received such positive feedback! I will definitely be passing on your details."
Anna Joske, Springthorpe OC2, 2015
"Thanks so much for committing to our festival. Your Water Drops were amazing and added the WOW factor to our parade. Don't know how you do it!"
Marion Robins, Ballan Autumn Festival, 2015
"I just wanted to say a big thank you for your performances as the Water Drops at Floriade last week. They were a huge hit with the crowds and the characters were visually very stunning to look at. You were a pleasure to work with and we look forward to working with you again."
Laura Raine, Floriade, 2014
"The Water Drops were a unique, fun and colourful addition to the Tunarama Festival, we had great feedback. Children were drawn to the majestic looking sea type creatures and captivated by their amazing bubble suits. You are definitely a world class act, thanks so much for being part of our Festival!"
Bridgett North, Tunarama, 2013
---